In July, we went to Brussels. We chose Brussels as it's somewhere the 12 year old hadn't been before, and it's a short two hour Eurostar ride from London. Brussels isn't that big – it's not quite as big as London or Paris. It has a very cosmopolitan feel without too many of the big city problems. Even though our trip encompassed Belgian National Day, it wasn't very busy and getting accommodation and around the city was easy.
The said 12-year old is here to give you the lowdown on the top 5 things you should do as a tourist in Brussels.
1. See the Mannekin Pis
The mannekin pis is anti-climatic. Lets get that out of the way. Its very small and hard to see, and we wouldn't have seen it if it wasn't for the great group of tourists around it. Definitely do this first, as if you do it last it may be a disappointment. He gets dressed up in different outfits. While we were there he was naked the first day, then in a special outfit for National Day (21st July), and then in a different outfit on the third day.
2. Eat Brussels food
Its not Belgium without traditional Belgian waffles and chocolate! These shops can be found all over Brussels, and are usually quite cheap. Around the Mannekin Pis there are lots of waffle and chocolate shops, with waffles ranging from 1 euro – 5 euros (depending on amount of toppings). If you really want to go turbo-tourist mode, you can buy a chocolate waffle, and eat it in front of the Mannekin Pis. (we did this!)
3. Go on a bus tour
You can't see all of Brussels if you're walking, even if you're there for ages! No, you have to take a bus tour. Our tickets for for 1 adult, 1 child, for 48 hours cost £40. They include a free pair of ear-phones to listen to the history of Brussels audio experience! (complete with 8 different languages!). The audio is good and tells you lots about the Brussels and its history.
The tour takes you on two routes – the first goes north and up to the Atomium area and back to the old town. The second takes you east to the EU area, and the Parliamentarium.
City Sightseeing was the only tour bus company in Brussels. The buses run approximately every half-hour. You can buy tickets on the day from the driver, or in advance on their website.
4. Go to Mini-Europe
If one European country wasn't enough, how about the whole continent? Mini-Europe is a fantastic place to visit, and you can easily spend a full morning there. It's interactive, and you can have fun posing with the models! The kids and adults too will always be entertained with something. And if they get hungry, that's no problem, because half-way round there's a delicious café. You can get here by hopping off the City Sightseeing tour bus. Read our review of Mini Europe!
5.Visit the Grand Place
The grand place is probably one of the most beautiful places in Brussels, with buildings covered in gold, at night-time it truly lights up with colour. Its also one of the most famous places in Brussels, but it is very busy. There are lots of places to eat around here.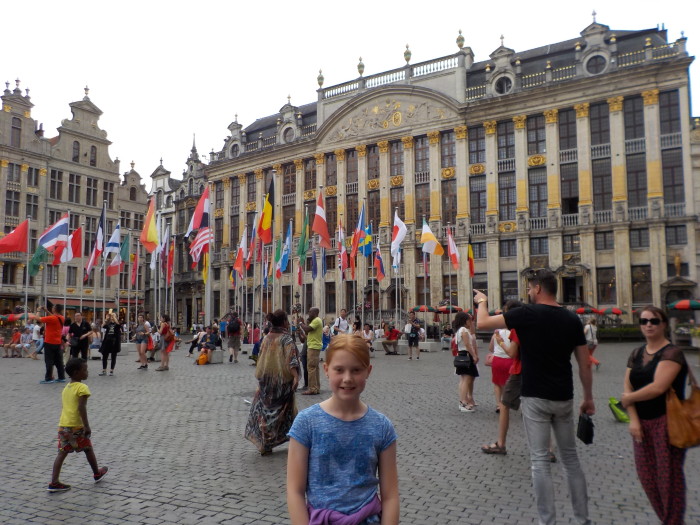 What would you add to our list?