Looking for somewhere for a city break in Europe? You wouldn't go far wrong with Brussels. It's a short hop away on the Eurostar or by air, and it's a great place. It's not too big, cosmopolitan yet humble, different but not alien.
I first went as a teenager whilst on a foreign language exchange visit to the less-than-prestige city of Charleroi in Belgium. I remember thinking how accessible and friendly Brussels was as a capital. It has a different ambience to Paris, though offers so much in terms of architecture and things to do.
In 2016, I decided to return with my own (almost) teenager. We had a great time.
Where to stay in Brussels
When booking, we had a huge choice of hotels to choose from, all of which were good value, especially considering we visited over the Belgian National Day celebrations.
We chose the Augustin Hotel, which was lovely. Very quiet considering its position on one of the main roads into the old town. Very friendly and helpful staff – which is far from an unusual feature in Brussels as a whole – and fantastic value. If you compare it to what you can get in London for your money, it was luxury!
Sightseeing in Brussels
As it had been a long time since I'd last been to Brussels and we only had a couple of days to see it all, we invested in a two-day hopper pass for the City Sightseeing bus. This was a great choice! We got to see the city's main parts, learn more about Brussels and find our way much easier to the key tourist attractions.
We joined the bus on Rue Lombard, just North of Mannekin Pis in the old town, and spent two days riding around the old town, the new town, the EU quarter, and up to the Royal Parks quarter with the distinctive Atomium.
Brussels architechture
The architecture in Brussels is some of the best I've seen. Brussels has a long history and has seen many phases. There's a huge mix of buildings and built environment from the gothic style churches and townhouses, to the glass-fronted offices and exhibition centres of the EU quarter.
We took the time to have a proper look at the buildings in and around La Grand Place, which is probably the most famous place in Brussels old town. It is pretty much as I remembered it from my visit in the mid-90s. It bustles with locals and visitors alike. Like much of Brussels city, there is a good choice of eateries here.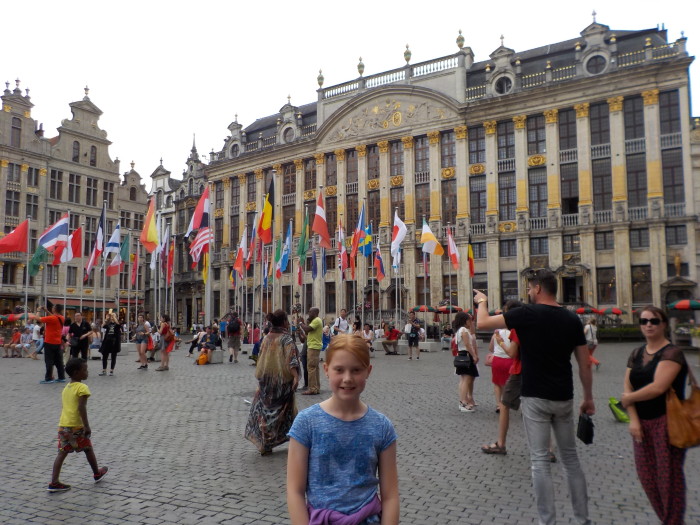 Typical Brussels tourists!
One thing I was intent on doing was showing the tween Mannekin Pis – the little statue of a boy with a fountain of water coming from a strategic body part. I remember the thrill of seeing something I'd only ever seen on the TV or in magazines, and then the utmost disappointment at it being much smaller than I expected and really not much to look at. It's humble, to say the least, but the locals take pride in dressing him up for special occasions, and I think it symbolises the Belgian culture – not too showy, fun, and a little bit cheeky.
Nevertheless, Mannekin Pis pulls in the crowds, and it's sometimes hard to get close up to see him better. On the up-side, there are some great waffle and chocolate shops nearby!
In the EU quarter in Brussels
The EU quarter is booming. With thousands of EU staff stationed in Brussels permanently or temporarily, the EU quarter is awash with diplomats, MEPs, and all the staff that a large government organisation needs to run. Brussels is also home to NATO, and to many other international companies.
In the EU quarter, hidden away amongst all the office complexes and the famous Le Berlaymont building (European Commission HQ) is the Parlamentarium – a planetarium on an EU theme. We didn't know about this place until we passed it on the bus tour, and we are really glad we stopped off to investigate. It's great for a couple of hours if you want to learn more about the EU and how it works. It's free and very child-friendly.
You can read our full review at The Parlamentarium
Brussels museums and the Comic Book Route
Brussels has lots of museums to explore and there's no way you could do even a handful of them in the couple of days that we had. There's the Museum of Natural Sciences, the Musical Instruments Museum, La Musee de Beaux-Arts, and the Children's Museum. There's also one dedicated to trains, and hilariously-titled Moof Museum, which is great for comic book fans.
Brussels, and Belgium, in general, is famed for its long history with comic books. Tin Tin's creator Herge is probably one of the most famous Belgians of all time, and there are murals all over Brussels, some of which include the famous explorer and his dog Snowy. If you're a fan of comic books or street art, then have a look at the Brussels comic book trail.
Brupark and the Atomium
Four or five miles to the north of the city centre, there is an area of parks, museums, and a tourist village called Brupark. There are eateries and shops, a water park, the Stade Roi Baudouin, and a multiplex cinema. Here, we visited the Atomium, and Mini-Europe – a model village on an EU theme, which is simply brilliant. It's well worth a visit and is great for all the family.
You can read our review at Mini Europe
Why we love Brussels!
We love Brussels because it's an extremely interesting city with lots to do, yet isn't too big. It's pretty safe and we felt completely at ease the entire time we were there. It's not too expensive, and it's obvious that the hospitality staff, in particular, are so used to foreign visitors. We found most people spoke good English as well as the native French and Dutch-Flemish. If you've never done a European city break before, Brussels is a great place to start!
The City Break Carnival
Want inspiration for other city breaks in Europe and beyond? Have a look at these posts from some more fantastic family travel bloggers.
Daisy has been to the Belgian city of Bruges. Here she shares a few ideas on how to keep kids entertained during 24 hours in Bruges, Belgium Family break in Bruges
Fancy visiting Oslo in Norway? Nell Heshram will revisit Oslo, one of her favourite cities, this summer. On her blog the Pigeon Pair and Me she's put together a round-up of the top family-friendly museums in the Norwegian capital. Family friendly museums in Oslo
Samantha from North East Family Fun has visited Barcelona on numerous occasions with her three children and highly recommends the Catalonian capital as a fantastic city to visit with the kids. Did you know that Barcelona is one of the few cities in the world with its very own beach? Find out why Samantha rates Barcelona so highly and recommends as the perfect option for a family city break here: Barcelona City Break
If you have visited all of the bigger London icons and are looking for Alternative things to do, hop over to Like Love Do. Donna share's 10 hidden gems in Londons big city. 10 hidden gems in London
The Wandermust Family LOVE Rome and think it is the perfect European City Break for families. Over on their blog find out their top 6 reasons why! Family trip to Rome
Emma from A Bavarian Sojourn is well qualified to recommend a family trip to Munich having lived there up until recently for the past five years. This city is surprisingly child-friendly, and really does have something for everyone. Explore Munich's green spaces (look out for the surfers in the Englischer Gartens!), visit a local museum, swim in a nearby crystal clear lake, or explore the biggest science museum in the world. Emma's list of things to do and see here goes on (and on)…Guide to Munich
Penny from Parentshaped Travels takes us on a trip to Amsterdam – check it out at Amsterdam city break
How about Bologna in Italy? Check out this from Space in Your Case http://spaceinyourcase.com/features/top-5-things-bologna-kids/ 
Have you been to Funchal in Maderia? Lisa from Travel Loving Family shares her five must see sights in the capital of Madeira, Funchal. Her recommendations include a scenic cable car ride to a view point at an incredible 1,800 feet overlooking the whole island, a thrilling toboggan ride in a wicker basket and a visit to Blandy's Wine Lodge to taste the famous Madeira wine. City break to Funchal
Ting from My Travel Monkey spent a week exploring snow-covered Iceland and discovered there was so much to see and do in Reykjavik – even for young children…Family break to Reykjavik 
With three hundred days of sunshine, six theme parks and miles and miles of golden sandy beaches, Jane Batt from Taking 5 says you should definitely consider Benidorm when planning your next family holiday. Pop over to Taking 5 and have a look at Jane's recommendations for what to do and where to stay in Benidorm as well as her family's top ten Benidorm activities.Guide to Benidorm
Laura from Have Kids, Can Travel had just one day in Pompeii with her family on their Italy Road Trip – here she talks about the strange feeling of walking back in time through someone else's home from 2,000 years ago, and her top tips on making the most of just a short visit to the ruined city. A day in Pompeii
Check out POD Travels if you're looking to visit Berlin in the near future. Charly shares the top 30 places to visit with kids and where you can explore without them. With posts on the Berlin Wall, East Side Gallery and Wall Museum, a round up of the top Christmas markets in the city and a look at the Berlin street art scene, there's more than enough to keep you occupied Guide to Berlin
If you are planning to visit the UK during your European break, Zena talks about why her family loved their visit to Liverpool and why it's worth visiting if your looking for a vibrant and cultural city outside of London: Guide to Liverpool
Pop over to Mums do travel to find out why Gretta Schifano and her teenage daughter think that Belfast is a great place for a family city break. A city break in Belfast
And finally……a guide to Barcelona from Susanna at A Modern Mother Guide to Barcelona