UPDATE – This museum is open to the public only on selected Saturdays through 2014 due to cutbacks. Please see their website for more information.

Hands on History
is a free museum in Hull City Centre. It is a brilliant way of passing an hour with children. It can be incorporated into a visit to other Hull museums, like
Streetlife Museum
, and is located about a quarter of the way round on the
Hull Fish Trail
. 
The ground floor is one large room, which used to be the schoolroom of the old Hull Grammar School. There is a 'work' area with touchy-feely exhibits of tools which workers like servants and maids would have used, and a great dressing up area. 
In the 'play' area, there is an exhibition of traditional toys, some of which you can play with and try not to destroy, though they seem pretty robust!
There is a box of puppets and a puppet theatre so you can be treat to your very own puppet show. Thankfully, the museum have also provided some comfy chairs. If you want to watch my "treat", then head over to our You Tube channel to see (why not subscribe while you're there? *hint hint*).
The main part of this room is the school room, where you can sit at desks and pretend to be Victorian. Some of the desks have exhibits (like slates and chalk) hidden inside them so you can take a peek.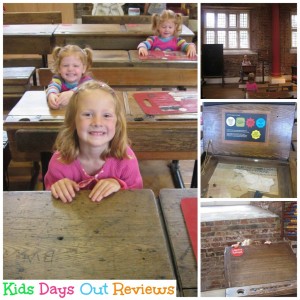 Down some steps there is a room to represent Victorian yards, with outdoor lavs, standpipes etc. It was so dark we couldn't see very much at all. This might have been because the lights weren't working, or it might supposed to be this way – who knows? Anyway, it was also a bit smelly, though I think this was intentional, so we didn't stay long.
Upstairs (or the lift if you prefer) and there are two exhibitions – the Eqyptian exhibition containing replicas of items found in the tomb of Tutenkhamun, most of which have been here since I was a youngster (and before that), and an actual real mummy. Still not as scary to the children as me though!
The final exhibition is one which used to be downstairs and I remember well – it's the story of Hull and its people. It tells the story (in objects and photos) of six people (based on real ones) who would have lived in Hull at some point in the past. You choose a name card, and follow their story at each significant stage in their life, like childhood, courtship and marriage, and work. Hint – if you don't want a tearful 5 year old, steer them away from choosing to be Mary, who pops her clogs as an infant. Poor Mary!
In this section there are some interactive parts but I mainly spent my time dragging the toddlers off the non-interactive parts before they did some serious damage to 200 year old items. Some of it is behind screens out of reach, and some of it temptingly at toddler-height!
Before we went here on this day, the older children were complaining because "it sounds boring….". They had changed their tune completely by the time we left, and protested because we had to leave to have lunch. Pesky kids!
We will be back very soon…
Tips – 


There is no parking apart from the usual Hull city centre arrangements. It's located in quite a pedestrian friendly area with some nice benches for eating picnics
The toilets have baby changing facilities.
There is a cloak room which doubles as a pram park. 
There is a small gift shop you do have to walk through to get to the upper floor. Good luck with that one!

For information about the museum and the events that it runs through the year, please visit their website at Hands On History