We stayed at the Travelodge Lytham St Annes in the October half-term break 2014.
Travelodge Lytham St Annes
The Travelodge reception is on the first floor – there are stairs and two lifts – and the accommodation is on floors one, two, and three of the main building. The ground floor is a vet's surgery and shops such as Costa Coffee and M&S. 
The Room
We had a family room, which was a double bed, two folding beds, and an en-suite bathroom containing a loo, a basin, and a bath with a shower over.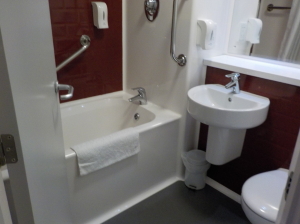 The room was clean and tidy. All the bedding is supplied, as are towels, loo roll, and complimentary tea-making facilities.
WiFi was available but was sometimes tetchy – you got 30 minutes free each day, or could pay for access. 24 hour access was £3 and you could pay via PayPal or card.
Our room overlooked a busy road, but the glazing was good and we didn't hear much from outside. There was a humming noise in our room during the night which I can only conclude was the noise from the chiller cabinets at the M&S below. It wasn't too bad though, and we did all get a lot of sleep.
Parking
Parking is rubbish. There is a small car park you can use but you'll be lucky to get a space. You can use it for loading, and then you'll need to park elsewhere. The car park in front of the shops is controlled, and much of the parking around is restricted. We found some unrestricted streets immediately to the south of the hotel, which meant we had a five minute walk to the car.
Travel
To get into Blackpool we got the 7 or 11 bus from the stop opposite the hotel (outside the Lord Derby pub). They were about every twenty minutes. Then we changed at Starr Gate and got the tram down Blackpool's promenade from where we could get to the Tower, Sandcastle Waterpark, the Pleasure Beach, and the town centre. A family day pass costs around £9 for two adults and up to three children, which means you can use the buses and trams as much as you like all day – on certain buses only – please ask the driver or conductor if you're not sure.
Breakfast
Breakfast is the pre-packed continental breakfast, so we didn't bother. There is a very nice little cafe across the street from where we got a good cooked breakfast for a reasonable price.
Verdict
We would stay here again. It was clean and quiet, and the staff were very friendly and helpful. It was cheaper than the Blackpool Travelodges and only a short bus and tram ride to all the major attractions. One of the better Travelodges we have stayed in, but it is fairly new so this is to be expected.
For more information, please check out the Travelodge website