As a family travel blogger, we get invited to some fantastic places. On most occasions we are invited to test somewhere as a regular punter. We get to see what everyone else sees, and try out the things that are available to everyday paying guests. We love sharing our thoughts and experiences with you so you can make up your mind if a particular day out is the right one for you and your family.
Every now and again, we get to experience something special. Something which is not available to the general public. Something that we enjoy doing, where we can meet up with other bloggers, and share an experience together. Yes, we can't 'review' that something as if anyone could have that experience, but it gives us a fantastic insight into an attraction or day out that wants us to share that place with you. We think ourselves very lucky that we get this exclusive insight, and make a huge effort to get to these amazing events.
This month, we were invited to a special event at The Science Museum in Kensington, London – a Science Night sleepover. The Science Museum holds regular sleepovers for school groups and uniformed organisations. If you've got children from age 8 to 14, you're probably aware of these types of overnight events. My own children have recently done one with Brownies at our local aquarium. Such fun. Not much sleeping goes on from what I understand, but hey ho!
Our sleepover though would not have the regular arrangements, but more of that later.
Our night at the museum started at around 7pm. We went with our ever-cheerful usher, Lizzie, and joined the groups – which numbered around 300 children plus various anxious teachers, Brown Owls, and youth leaders – in the Flight gallery to be briefed on the organisational and safety arrangements for the night, which included a pretty humourous video. The children were all excited and ready to experience their night of science.
Then our exclusive group comprising of us and just two other lovely blogging families were whisked away to meet Mark Champkins. Mark is The Science Museum's Inventor in Residence, and is most well-known for being the guy who got some money out of Peter Jones on Dragon's Den to develop a range of products called Concentrate which help children to learn more effectively at school.
Mark shared with us his top tips for young inventors and we learned all about his successful, and not-so successful inventions, and the challenges faced by inventors today. He was amazing and answered all the questions the children threw at him, and the often less sensible ones from the adults. He told us about his beautiful flower lamp, a bouquet he made for the Queen from ticker tape and punch cards, his surprisingly successful pre-chewed pencils, and showed us a never-seen-before peek at his latest commission – an overly elaborate watch winding machine based on an orrery, which is the name for a mechanical model of the solar system – see, you learn something new every day! You can now see this on his website. We also tried out his adjustable specs.
Thanks to The Science Museum for arranging this session as Mark is a busy man and he doesn't do this very often. We feel very privileged.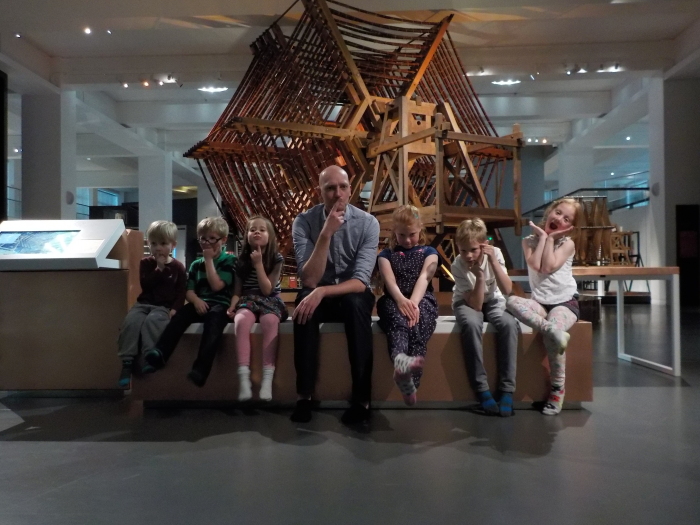 Next up and we re-joined the masses in the Information Age gallery for Get Appy, an interactive session using iPads. The children really loved this session even though we couldn't fathom out the app for anything, and they had to share iPads in small groups which caused some arguments. Then again, my children could find something to argue over in an empty room. The session did however get the children engaging with the exhibits and finding out something new.
The Information Age gallery is one of The Science Museum's newest exhibitions. Main sponsor BT have themselves donated more than 80 objects to the gallery. If you're interested in all things internet, telecoms, and even Morse Code, then this exhibition is the one for you. More on this later!
Our last session of the evening was a very entertaining lecture on forces. We watched as the enthusiastic presenter used a few volunteers, and a much-abused Phil the frog to explain all about magnetism, friction, and propulsion to a crowd of noisy, excitable tweens.
After this was snacks, and finding somewhere to sleep. We weren't going to be sleeping in the main sleepover bit with all the other children. Thank goodness as I don't think we really would have had a lot of sleep, and I was totally shattered by this time. We were to sleep in the Information Age gallery. No-one had ever slept over in this part of the museum before. We had special permission to do this. So it was going to be us three, and the two other families.
We chose our spot in the little space dedicated to the TV broadcast of the Queen's coronation in 1953. It was quite reassuring having a TV in the room, even though it would be lights out – and all the other interactive exhibits – not long after. It was now 11:30pm.
It had been a long, but interesting evening. I wasn't sure how I would sleep to be honest. The gallery was not at all creepy. I suppose TV sets and old BBC computers are more my natural habitat than the stuffed animals or dinosaurs like in the Museum of Natural History of the movie Night at the Museum, which was helpful. Actually, we slept pretty well.
The morning started at 6:45am with lights on and a Hi-Di-Hi style wake-up call. Breakfast and a quick freshen up was followed by an IMAX movie. We watched a film about the hidden secrets in the world around us – things that are too small, too slow, or too fast to see. It was amazing, with only a couple of gooey bits. If you like flowers, butterflies, and micro-organisms, this film is brilliant.
Closely followed by breakfast and a 3D movie, was Launchpad – a free-for-all session in the Launchpad discovery area. This was a recipe for mess, with dozens of excitable sleep-deprived children now wound up even more. The teachers and Brown Owls looked relieved that this night would soon be over. Hats off to every single one of them. As a parent of two members of uniformed organisations, I am grateful that there are people willing to volunteer their time, and sanity, to make such events possible.
Launchpad is great fun with interactive machines to explain forces, magnets, sound waves, and more to children of all ages. We built a bridge, listened to sound through our teeth, and I helped a group of much shorter Brownies make an arch from foam bricks. I don't know how long we were in there. It could have been an hour, maybe only a half-hour. By then, I'd lost all sense of time and the outside world.
Once clean-up was complete, we grabbed our still-cheerful usher, Lizzie, and went back off to the Flight gallery for de-brief. Awards were given to the various leaders and star pupils. Science Night lasted from 6:30pm to 10am, when the Science Museum was opened to the public.
After saying our goodbyes to our fantastic hosts, our thanks to BT for the event, and collecting our things, we decided to explore the museum a bit more. My goodness, it is huge! So far, we had only really seen four areas, but there are seven floors of galleries to see. We couldn't possibly do it all, even if we were there all day.
We had a nosy in the mathematics exhibition, which was more interesting than it sounds. I found one of these in the equipment history section which was a bit disturbing as I had one of these as a child. It's not that long ago, honest.
We had a look around the materials gallery, which was fascinating, and the gift shop. Totally museum-ed out, we left for the fresh air of London that bit more knowledgeable than we had arrived.
Thank you to BT for providing this exclusive event, to our usher Lizzie, to Mark Champkins, and to The Science Museum for letting us be part of a museum sleepover first. We really enjoyed our night at the museum.
We will have to return very soon. For a review of the museum, please see The Science Museum
You can see what Cambridge Mummy, one of our sleepover compadres thought of this experience.
Disclosure – we were guests of BT and The Science Museum for this event