We can not recommend Blackpool Pleasure Beach enough. We visited on Halloween, when it became Vampire Beach for the day and we had an amazing time. We are a family with members aged from 3 to 53 and all had a brilliant day, and we were there from 11am until 9.30pm – over ten hours, which is fantastic value. The Halloween atmosphere was pitch-perfect and there was so much to do.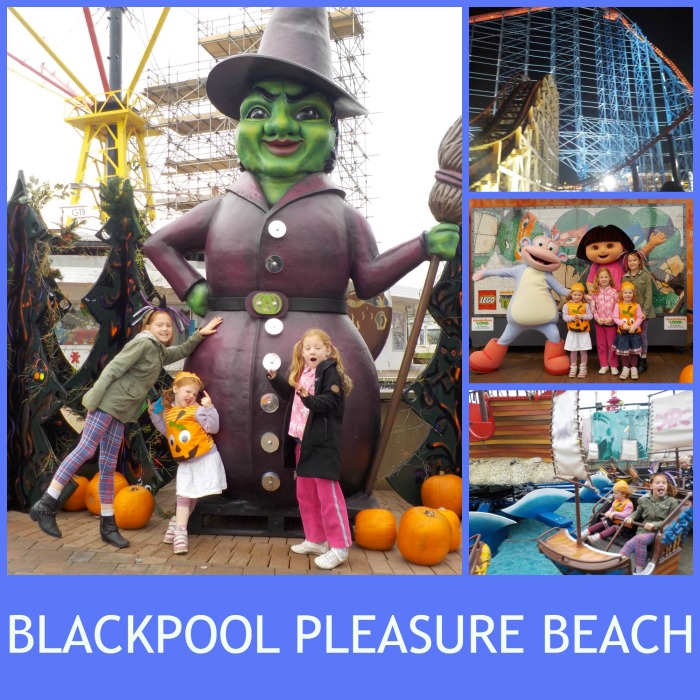 The last time I went to Blackpool I was shocked because you had to pay to go in to the Pleasure Beach and then buy tokens for rides, or buy an all-inclusive wristband. You didn't have to do this before – you could just walk round and then buy tokens if you fancied any of the rides or sideshows. With the change from free entry to an entry fee on par with other major theme parks, I really didn't know what to expect from our visit. So it was with a completely open mind that we went to Blackpool Pleasure Beach on Halloween, all dressed up and ready to roll!

First of all, you have to go to the entrance building, which is the old art-deco white building next to the north entrance. You buy your wristbands (or exchange your online receipt) before you go to the park entrance itself. You will be bag-checked for any dangerous items or alcohol, and then you use your ticket and wristband to gain entry. Your wristband with a scannable barcode serves as your entry token for each ride, or you can buy tokens on site for each individual ride. It's up to you really. It depends on how many rides you want to go on, but bear in mind that there are lots of rides where children need to be accompanied. There are height charts at the start of each ride's queue. Don't attempt to ride if you're too short as you are checked again before you board and they are strict about it.
There are so many rides to go on – Blackpool Pleasure Beach claims it is the UK's most ride intensive park and I can very much believe it. My camera ran out of power after a few hours, and there's so much more I could have showed you, but I think we have enough to share already!
Our day started off on the Grand National – a roller coaster built in the 1930s but still as fun as ever. If you can call it fun. I'm not a fan of coasters but the 7-year-old wanted to go on it, and although she was big enough, she wanted company. I was genuinely scared. Liked witless scared, but she loved it. Thumbs up indeed!
After that, everything was easy. We all went on the Grand Prix and pretended to be racing drivers. Brilliant family ride which is a trip back in time.
Then we headed over to Nickelodeon Land which we LOVED! There was loads to do here, such as Dora's World Voyage, which was the 3-year-old's favourite ride.
There were kiddy rides on a Spongebob Squarepants theme, one of which looked a bit wet, so we avoided that one on account of it being October. One of the rides all my children really enjoyed was the Backyardigans pirate boat ride, which went very fast forwards, and then backwards.
There are two coasters over in Nickelodeon Land – a small blue family-friendly coaster, and a much longer orange one called Nickelodeon Streak. It was pretty fast and scary (for me) but after my earlier experience, I was relatively happy.
In Nickelodeon Land, there are ample opportunities to meet your favourite characters, such as the Teenage Mutant Ninja Turtles, and Dora and Boots, who were our faves! We were allowed to take our own photo here but sadly it wasn't the case elsewhere in the park when we met Wallace and Gromit. At £10 per photo (or £20 for a four-photo pass), we weren't going to buy lots of them, although we did stretch to a couple of ride photos. The twins absolutely loved meeting Dora and Boots and it really made their trip.
By now, Vampire Beach had officially started and vampires, skeletons, scary clowns, and ghouls were starting to pop up. I have to say that I was so impressed with how many people, children and adults, had embraced the Halloween theme and there were lots of well-done (and scary) outfits. The park was open until 10pm and there was a brilliant atmosphere with park entertainers out in force, and live music from the stage near to the Wallace and Gromit ride. Surprisingly, even my youngest children weren't afraid (apart from the very scary clown we got stood behind in one of the queues) and took it all in good fun. We even spotted Batman aboard the Airbender ride with my ten-year-old.
By now, we were getting a bit hungry having forgone lunch in favour of rides, and we found a great Italian restaurant. It was all-you-can-eat for a very good price, the food being pizza, pasta, and salad, which is right up our street and makes a change from the usual theme park burger and chips.
Back out and it's starting to get dark now. The ghoulies are out in force, and we go and explore the rest of the park. We've so much park left to do although we've done lots already and been busy for a good four hours. We found lots more rides that the children could go on – they loved the mini carousel and car ride, and they could all go on the Eddie Stobart ride and tea-cups.
Then my camera started to run out of power. Gutted. There was so much more to see. We watched as the older two went on The Avalanche with Grandad. The Avalanche being a roller coaster where the carriage comes off the rails and goes down a tube like a bobsleigh instead. Grandad and the ten-year old tried out the famous Steeplechase, where you ride a horse around a coaster track.
Then several turns on the Wallace and Gromit Thrill-o-matic ride, a family-friendly carriage tour through all the Wallace and Gromit stories with sound effects and a copious amount of rabbits – watch out for the were-rabbit! We stood outside and watched the live bands for a while, and the Halloween entertainers. It really was a good atmosphere.
A look at the map showed us there were loads of things we still hadn't been on – like the amazing and very retro Derby Racer (which was soon rectified, twice) and the Big One (which wasn't and will never, ever be, thank you very much).
A big surprise was the Pleasure Beach Express which we expected would just be a train to take you from one end of the park to the other, but it was brilliant. Yes, it was the obligatory perimeter miniature train, which not only went through dinosaur  and pirate scenes, but also under and between the large roller coasters, and we were pootling along when a coaster would come whooshing over our heads. Just enough battery power for a train selfie!
What left? The Alice in Wonderland ride – which has been there since the 1960s – was our last stop. The girls were a little bit confused as they don't know all the Alice stories too well but they enjoyed the psychedelic colours and little carriage ride anyway.
We left at 9.30pm and grabbed some chips from the take-away on the front. We were tired but not weary and could have stayed and gone on everything all over again.
We absolutely loved Blackpool Pleasure Beach. There was lots to do for all of us. If you like roller coasters, there are lots to choose from here, and if you don't, then there's also a lot to do.
Toilets and cafes were ample, though the Italian restaurant looked very busy at lunchtime. It had plenty of space mid-afternoon when we visited.
Vampire Beach was awesome and you can tell it was a very special event for the people who came especially for it. It was obvious that people had made a real effort. The entertainment was good, and the atmosphere just perfect.
We highly recommend going on a day with extended opening, like Vampire Beach, as there's so much to do that you may not get round it all on a regular day. Get there early just to make sure you get the most out of your day. While queues were pretty short – the longest we waited was about 40 minutes for the Nickelodeon Streak – there are so many rides to go on that you might struggle to get them all in on busier days.
Overall – L-O-V-E-D IT! We will be back again.
For more information please check out the website of Blackpool Pleasure Beach
Disclosure – we were given some wristbands towards our group's total entry for the purposes of this review