Sandcastle Waterpark is the UK's biggest indoor waterpark, and I can quite believe it. I would say it's much bigger than any of the Butlin's waterparks and Splash Landings at Alton Towers. Sandcastle Waterpark has over 18 slides and attractions, and we spent three hours here in October half-term 2014.
First of all, all parts of Sandcastle Waterpark are not suitable for all ages. There are height restrictions on many of the bigger slides and flumes, and you should check their website before you visit. You pay a standard entry fee, and then can buy a wristband allowing you access to the scarier slides.
We couldn't all go on everything, especially the three-year-olds, so here's our favourite bits….
Ushi-Kushi River Creek
A rapids loop with very fast blasters. My seven-year old loved this and had to be pulled away to go and get dried. She could just about touch the floor and do this on her own. It got very busy and there was the odd tween trying in vain to do it in reverse. I *may* have *accidentally* taken one or two back the right way with me. Oops!
The Carribean Storm Treehouse
This is a three-storey frame with waterfalls, guns, and a huge tipping barrel which overflows every ten minutes or so to the delight of the crazy people stood waiting underneath. The twins loved this bit – well, they loved shooting the water guns, and the climbing. They didn't like being shot with the guns, or the huge barrel.
Fort Riptide
Fort Riptide is a boat-shaped frame with a couple of small tube slides. The three-year-olds spent a while on this one going down a slide, and then going back round again.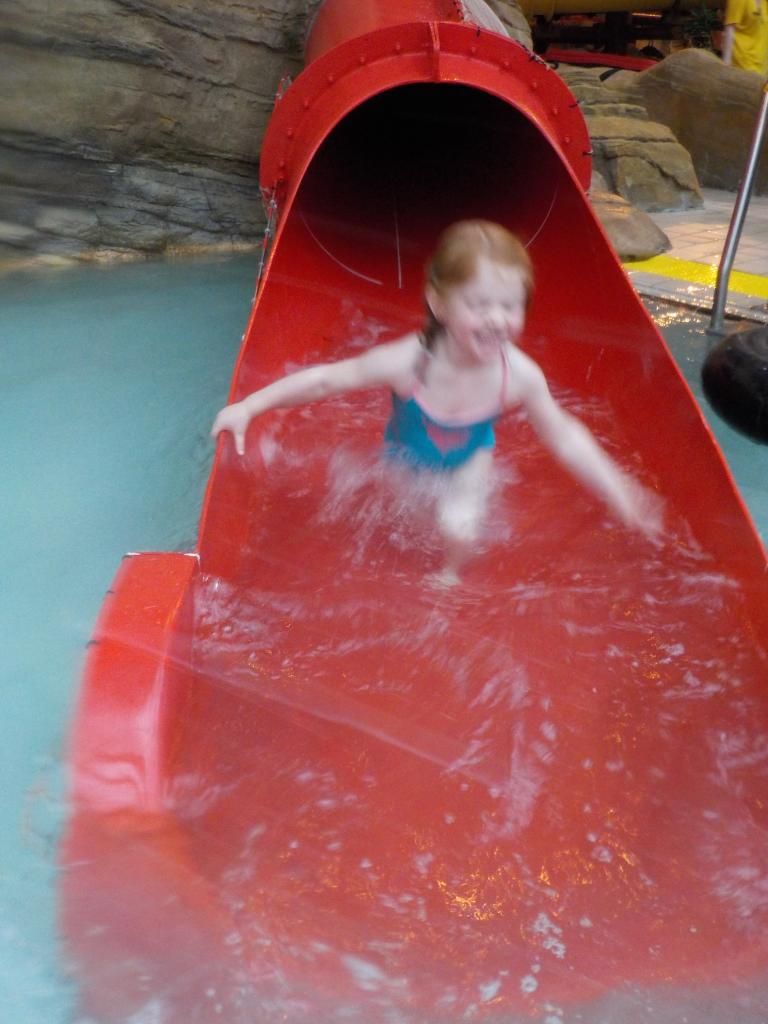 Duelling Dragons
Two very fast water slides next to each other which spit you out at high speed. Over 6's only, and you must be able to swim. Solo riders only. See if you can beat your friend down to the bottom. Or if you're seven, see if you can beat your scared mum instead. Yes, you can.
HMS Thundersplash
This is a little boat-shaped frame with one slide coming from it (the second slide was cordoned off for some reason). Perfect for littlies.
Master Blaster
This is a water-coaster for ages 8+. You have to queue first to get a raft, then take your raft to the second queue to get on the ride itself. My 10-year-old queued for an hour to get on this. She enjoyed it though. She said it was a bit scary. You can ride on your own or in a pair on a double raft.
Thunder Falls Water Slides
This is two moderate slides – i.e. I'll go on them happily – suitable for anyone who can swim on their own, although you are allowed to take a child down with you on your lap. Not scary enough for my seven-year old, who I swear has a deathwish.
Treetops Water Chutes
A three-lane bumpy slide suitable for anyone. My three-year olds loved this and went on loads of times. Very short queues and big enough for adults to accompany the children. We really liked this one.
Typhoon Lagoon
A graduated pool with wave machine, and waterfalls. The staple of every waterpark, and perfect for paddling tots.
Sandcastle Waterpark
The queues to get in the waterpark were huge. Either go early, or after 3pm, or be prepared to queue. If you book online, you will get fast-tracked by the staff, so worth doing if only to reduce wait times.
The changing rooms were ample and the lockers worked. Always a bonus! While I did see some people having to wait for a cubicle, personally we didn't have to wait either on entry or exit. There are plenty of showers and toilets, and are changing areas for males, for females, and one for families. You will need 50p for the locker but there are change machines on the way in if you forget.
If you want to take photos in the pool, visit the First Aid desk where they will issue you with a special wristband.
While the signs are not the best for working out how to queue for the bigger rides especially, there are lots of staff about to help. They are very good in making sure that you only go on rides that are suitable for you. In fact, all the staff were very helpful and friendly.
The changing rooms and toilets were clean and tidy. They weren't spotless, but certainly a lot better than any other pool facility I've used recently. I was impressed with this, particularly considering the high number of swimmers they get on a daily basis.
Picnicking is not permitted, but there are cafes on both sides of the pool – there is a big cafe with a waterfall in the main lobby area, and smaller cafe bars dotted around the pools. There are also lots of chairs and tables so you can sit poolside and eat.
Visit time – we were there three hours and could easily have been there a bit longer. It was really warm and welcoming. It's the sort of place that older kids such as tweens and teens could be in all day, while you sit relaxing poolside with a coffee and cake. For me, this is a distant dream. One day…….
For more information, please visit http://www.sandcastle-waterpark.co.uk/
Disclosure – we were given complimentary entry in order to do this review