on Sunday 23rd March 2014, the #TeamHonk baton reaches John O'Groats. If you don't know what I'm talking about, where have you been?
The baton set off in January and it has been taken on an epic journey up and across the British Isles. It has done over 3000 miles, over 38 regional legs, involving over 200 members of the UK blogging community plus a veritable host of willing volunteers.
On March 2nd 2014, the baton reached East Yorkshire, and this is what we did…
We collected the baton from Hull Aero Club where it had been flown in on a bit of a dodgy day weather-wise by Leyla of the Sheffield team.

Helen and Mark cycled it to the beautiful Beverley Minster to hand it over to Izzy of cycling group Frillies on Wheels and her family….




……who cycled it another 12 miles or so to the region's biggest landmark The Humber Bridge.




After a bit of a delay, the Hulls Angels Roller Dames took over and gave it a good airing up in the blustery Humber winds.


Courtesy of the Hull Daily Mail

A cycling team made up of Hull Cycle Courier, Bob's Bikes, Sunday Girls Road Club, and various other people took it the seven miles or so to the KC Stadium.




There waiting for us were the mascots of local sports teams Hull City, Hull KR, and Hull Stingrays, and the Lord Mayor of Hull and her family. We re-enacted the baton relay around the KC Stadium, to the amusement of a few baffled onlookers. You can see this on this clip…..



The next day, we took the baton via Hessle Road. Tami from Mummy of Two dressed as Orville the Duck, and Glen from Petrespect.org came as Slinky Dog. Jess the mascot dog carried the baton rather well.


At ASDA, the baton passed to Flora Marriott, and she cycled the ten miles or so to North Ferriby United Football Club to pass the baton on to MEEEEE!




After a bit of a lark about, I set off with Stu of Hull Cycle Courier on a 30 mile bike ride to Selby. We were very lucky with the weather, and didn't get lost once!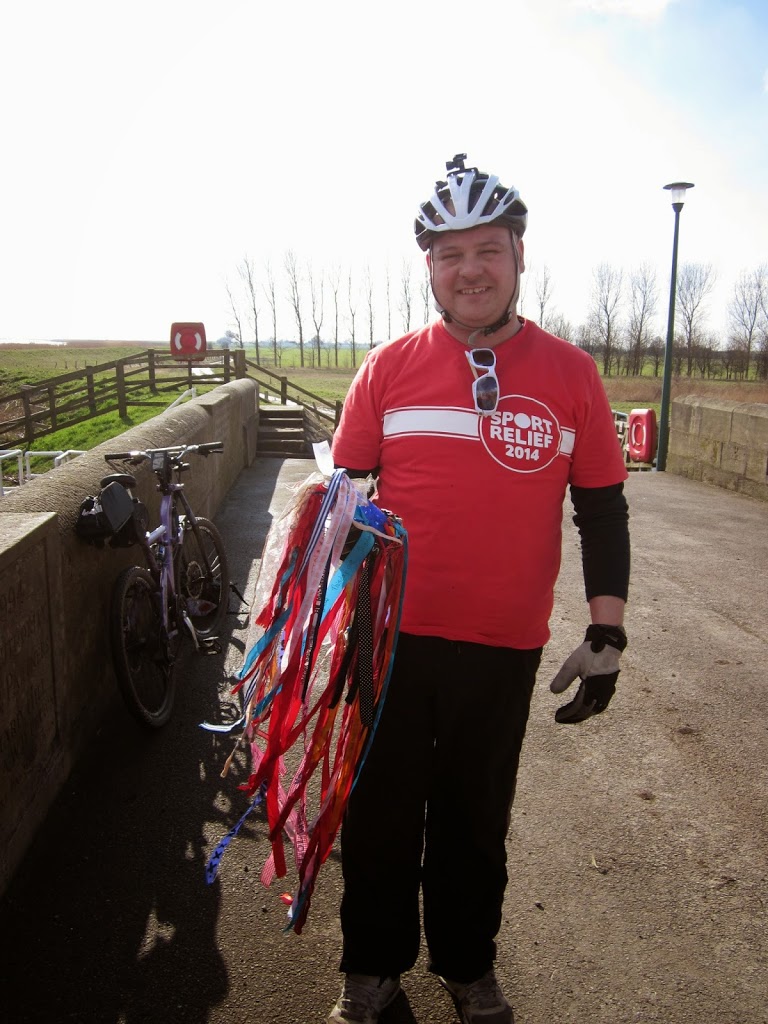 It took around four hours to get to Selby, and then we just had to find the drop off point. We found it after a bit of asking some puzzled looking Selby folk (thanks to the man at the bus station for helping us with directions and giving us some sponsorship money), and arrived at the school mid-governors meeting.


The next day Izzy took up the baton again and rode with a friend over the 25 miles to Bardsey Sports Club which was our final destination. The baton was collected the next morning by Sian of Team Honk Bradford, and our work was done!


All done!
You can sponsor our team here
You should sponsor us because….


It was a real community effort. Effectively with only two bloggers on the team and 70 miles to cover, we had to call on lots of volunteers to help us, and Hull came up trumps!
We had a brilliantly rock and roll bit on The Humber Bridge with Hulls Angels Roller Dames and they were simply the most awesome group of ladies. They deserve sponsorship simply for the most breezy drizzly afternoon of waiting around. 
I cycled 30 miles. The most I'd done to that day in one go was about 10, and that was only because of the training. Usually, I have a trailer on the back with two 3 year olds in it (and shopping). It was nice to get out and about with no-one to pull, but I won't pretend I didn't have to train beforehand, or didn't find it a little tough.
Tami dressed as Orville and walked down one of Hull's most famous shopping streets. With a giant slinky dog. Please give us some money!
£25 could provide a therapy session for a young person living with HIV to help them overcome the challenges they face. 
We got a dog! A real one. And she was very cute and extremely well behaved.
We roped in the support of all of Hull's major sports teams (apart from Hull FC, but they had an away game so we'll forgive them).
£50 could help a mother living in poverty in Bangladesh set up her own small business and provide for her family.
We've had all sorts of East Yorkshire companies come forward and give us items to auction off to raise more money, including The Deep, and Hull KR.
It was the generosity of Hull company RS Digital Signs which made the now famous banner which not only made it all the way through Hull and East Yorkshire, but has gone on to Harewood House, The Trafford Centre, through the Lake District, past The Angel of the North, and hopefully will make it all the way to the very northern point of the British mainland. You can see it on Instagram by following #teamhonkrelay
You can show the rest of the UK what community-minded people we have in Hull. We have a great history of helping others who are worse off than ourselves, and there are some great causes in Hull and East Yorkshire which are supported by Comic Relief and Sport Relief. 
We went for it BIG time on media coverage. We had three articles in the Hull Daily Mail, one on HU17.net, went on BBC Radio Humberside twice, and on Beverley FM. If you live in Hull and didn't know about #TeamHonk then there is something amiss. You can read our media glory here, here, and here!

So, please look out for the baton arriving in John O'Groats on Sunday. There is something happening on Twitter from around 5pm, follow the #teamhonkrelay hashtag.

We have been very proud to have been a part of this mammoth project which showed how people from many different backgrounds in all corners of the UK can work together to do something special.

We'd like to say a huge #TeamHonk thank you to the following people who also donated to our fundraising auction and raised even more cash for a great cause.

Drumond Park games
Harewood House
Stockeld Park
Pi Student Properties

About Sport Relief 2014
The first ever Sainsbury's Sport Relief Games take place from Friday 21st to Sunday 23rd March 2014. The public can join the fun and games by running, swimming or cycling their way to raising cash at over a thousand venues around the country, including the landmark events at Queen Elizabeth Olympic Park.

As one of the biggest fundraising events, Sport Relief brings the entire nation together to get active raise cash and change lives. The money raised by the public is spent by Comic Relief to help transform the lives of some of the poorest and most disadvantaged people both at home in the UK and across the world.